National Geographic
National Geographic
ng@email.nationalgeographic.com
A rising movement for sovereignty ‌ ‌ ‌ ‌ ‌ ‌ ‌ ‌ ‌ ‌ ‌ ‌ ‌ ‌ ‌ ‌ ‌ ‌ ‌ ‌ ‌ ‌ ‌ ‌ ‌ ‌ ‌ ‌ ‌ ‌ ‌ ‌ ‌ ‌ ‌ ‌ ‌ ‌ ‌ ‌ ‌ ‌ ‌ ‌ ‌ ‌ ‌ ‌ ‌ ‌ ‌ ‌ ‌ ‌ ‌ ‌ ‌ ‌ ‌ ‌ ‌ ‌ ‌ ‌ ‌ ‌ ‌ ‌ ‌ ‌ ‌ ‌ ‌ ‌ ‌ ‌ ‌ ‌ ‌ ‌ ‌ ‌ ‌ ‌ ‌ ‌ ‌ ‌ ‌ ‌ ‌ ‌ ‌ ‌ ‌ ‌ ‌ ‌ ‌ ‌ ‌ ‌ ‌ ‌ ‌ ‌ ‌ ‌ ‌ ‌ ‌ ‌ ‌ ‌ ‌ ‌ ‌ ‌ ‌ ‌ ‌ ‌ ‌ ‌ ‌ ‌ ‌ ‌ ‌ ‌ ‌ ‌ ‌ ‌ ‌ ‌ ‌ ‌ ‌ ‌ ‌ ‌ ‌ ‌ ‌ ‌ ‌ ‌ ‌ ‌ ‌ ‌ ‌ ‌ ‌ ‌ ‌ ‌ ‌ ‌ ‌ ‌ ‌ ‌ ‌ ‌ ‌
| | |
| --- | --- |
| | Saturday, July 2, 2022 |
PHOTOGRAPHS BY KILIII YÜYAN


No victims. That was a prerequisite for photographer and Nat Geo Explorer Kiliii Yüyan as he envisioned this month's National Geographic cover, seeking to represent a rising movement for sovereignty among Native Americans.

Kiliii, of Nanai/Hèzhé ancestry, knew he found his backdrop when he saw the sun setting over the red rock formations in Tse'Bii'Ndzisgaii, or Monument Valley Navajo Tribal Park. His powerful portrait (above) of international model and activist Quannah Rose Chasinghorse captured the tone he was seeking.

The image departs from the old stereotype of Indigenous people as victims, Kiliii told Nat Geo's Emily Martin and Sylvia Mphofe. "You're saying, 'Here we are, having a great time living our lives and just being able to be free.'"

See and read the full story here. And scroll down for a few stories behind the images.

Soon to rise: This totem pole will rise in the village of Opitsaht in British Columbia to commemorate the Tla-o-qui-aht's recent history. The skulls (at far right) symbolize victims of COVID-19, students who died in residential schools, and murdered and missing Indigenous women. "When the Europeans came, they said we were illiterate," explains Joe Martin, the master carver overseeing the pole's creation. "But so were they—they couldn't read our totem poles."

Ready for salmon: With a dip net, Karuk fisherman Ryan Reed searches for Chinook salmon under the watchful eye of his father, Ron, on California's Klamath River. The Reeds caught no fish—in stark contrast to earlier times. Before California became a state, the river saw about 500,000 salmon each fall, but last year just 53,954 mature Chinook swam up. With the slated removal of four dams, the Karuk hope the salmon will return.

Revitalizing Mohawk culture: During the corn harvest, Katsi Tekatsi:tsia'kwa Cook embraces her grandson Karakwatiron at her family farm in Akwesasne, New York. Raised in a prominent Mohawk (Kanien'kehá:ka) family, she became a midwife and helped found the Birthing Centre of Six Nations Health Services in Ontario. By integrating traditional customs with modern protocols, she says, Indigenous midwifery plays a role in revitalizing Mohawk culture.

Field to table: What does sovereignty mean? One aspect can be taking charge of what you need, such as food. Standing in their field, members of the Onkwe community garden in Akwesasne, New York, display traditional varieties of corn, squashes, and beans they are reviving. Keep reading here.

Reader, please consider supporting our storytelling by subscribing to our magazine and unlimited digital offerings.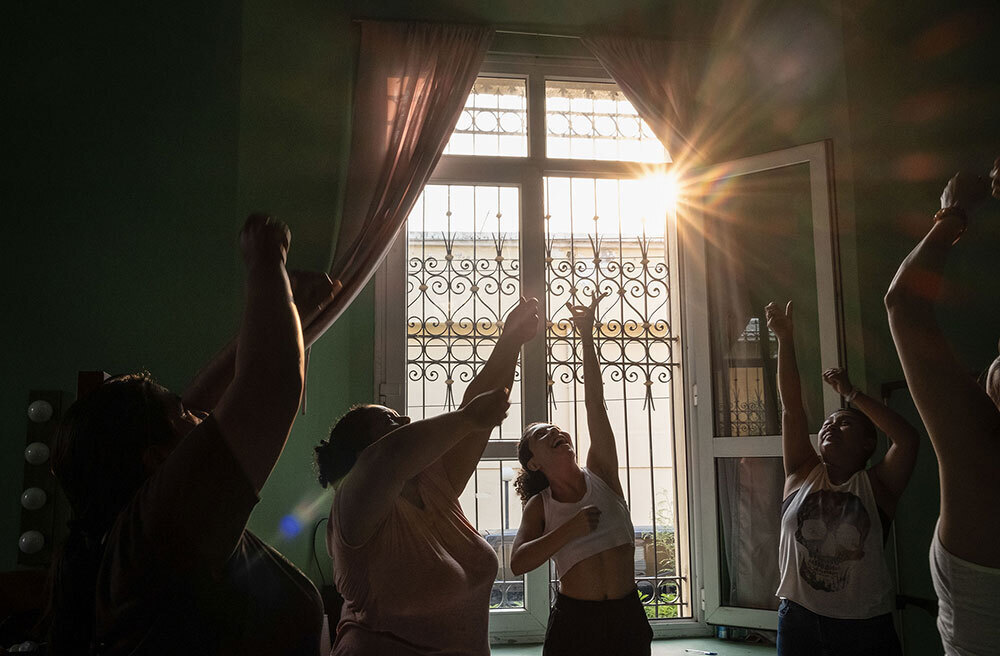 PHOTOGRAPH BY CRISTINA BAUSSAN


Unearthing buried emotions: Women have borne the brunt of abuse in El Salvador, and rigid laws have forced motherhood on many victimized and stigmatized teens and young women. A theater troupe is using new tools to help women deal with their trauma, Nat Geo reports. Above, before a performance, the women visualize using a rope to pull themselves out of a bad situation. "Up there is the exit," they are told. "Up there is the light."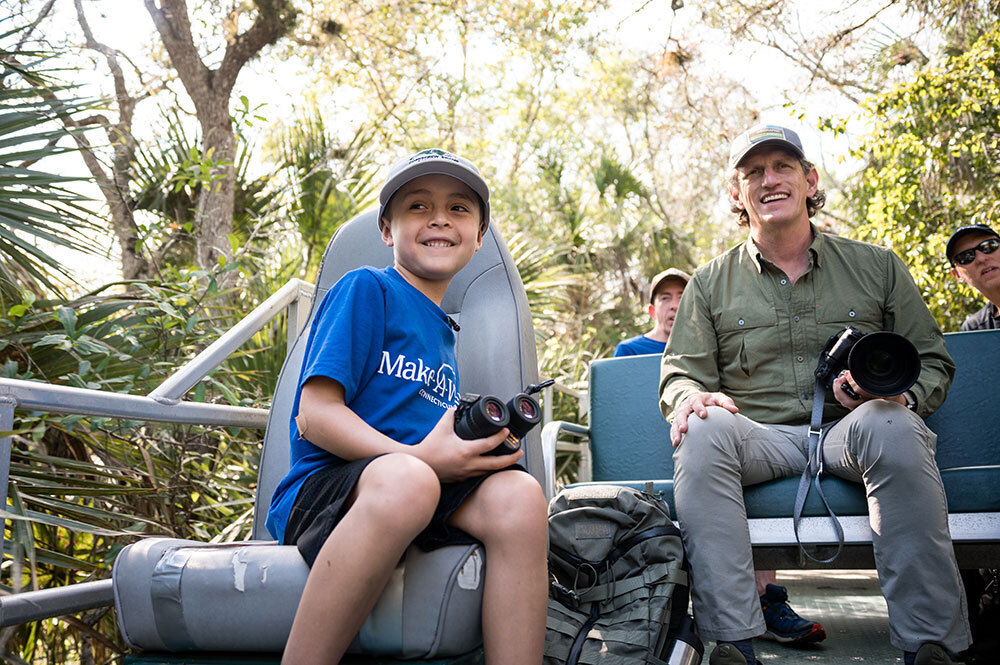 PHOTOGRAPH BY ZEE ANNA PHOTOGRAPHY


Teaching, training: The photo above shows eight-year-old Oban Birmingham, whose passion for wildlife and photography has grown since his diagnosis in 2020 with Burkitt leukemia, a rare form of cancer. After finishing chemotherapy, Oban was contacted by the Make-A-Wish Foundation. Oban's wish: Join a Nat Geo Explorer in the field. Explorer and conservation photographer Carlton Ward Jr. (above right), who is known for successfully pushing for a wildlife corridor in Florida, took Oban to the state's Audubon Corkscrew Swamp Sanctuary in February. Oban now says he has a clear goal when he grows up: to be a naturalist for Nat Geo. Good luck, Oban!
This newsletter has been curated and edited by David Beard, Jen Tse, Monica Williams, and Heather Kim. Amanda Williams-Bryant, Alec Egamov, and Jeremy Brandt-Vorel also contributed this week. Have an idea or a link? We'd love to hear from you at
david.beard@natgeo.com
. Thanks for reading!
| | |
| --- | --- |
| | SHARE YOUR THOUGHTS |
| | |
| --- | --- |
| | We'd like to hear from you! Tell us what you think of our emails by sharing your feedback in this short survey. |

Clicking on the Facebook, Twitter, Instagram, and National Geographic Channel links will take you away from our National Geographic Partners site where different terms of use and privacy policy apply.

This email was sent to: man474@icloud.com. Please do not reply to this email as this address is not monitored.

This email contains an advertisement from:
National Geographic | 1145 17th Street, N.W. | Washington, D.C. 20036

Stop all types of future commercial email from National Geographic regarding its products, services, or experiences.

Manage all email preferences with the Walt Disney Family of Companies.

© 2022 National Geographic Partners, LLC, All rights reserved.