James Clear
James Clear
james@jamesclear.com
3 ideas, 2 quotes, and 1 question to consider this week. ‌ ‌ ‌ ‌ ‌ ‌ ‌ ‌ ‌ ‌ ‌ ‌ ‌ ‌ ‌ ‌ ‌ ‌ ‌ ‌ ‌ ‌ ‌ ‌ ‌ ‌ ‌ ‌ ‌ ‌ ‌ ‌ ‌ ‌ ‌ ‌ ‌ ‌ ‌ ‌ ‌ ‌ ‌ ‌ ‌ ‌ ‌ ‌ ‌ ‌ ‌ ‌ ‌ ‌ ‌ ‌ ‌ ‌ ‌ ‌ ‌ ‌ ‌ ‌ ‌ ‌ ‌ ‌ ‌ ‌ ‌ ‌ ‌ ‌ ‌ ‌ ‌ ‌ ‌ ‌ ‌ ‌ ‌ ‌ ‌ ‌ ‌ ‌ ‌ ‌ ‌ ‌ ‌ ‌ ‌ ‌ ‌ ‌ ‌ ‌ ‌ ‌ ‌ ‌ ‌ ‌ ‌ ‌ ‌ ‌ ‌ ‌ ‌ ‌ ‌ ‌ ‌ ‌ ‌ ‌ ‌ ‌ ‌ ‌ ‌ ‌ ‌ ‌ ‌ ‌ ‌ ‌ ‌ ‌ ‌ ‌ ‌ ‌ ‌ ‌ ‌ ‌ ‌ ‌
3 ideas, 2 quotes, and 1 question to consider this week.
 ‌ ‌ ‌ ‌ ‌ ‌ ‌ ‌ ‌ ‌ ‌ ‌ ‌ ‌ ‌ ‌ ‌ ‌ ‌ ‌ ‌ ‌ ‌ ‌ ‌ ‌ ‌ ‌ ‌ ‌ ‌ ‌ ‌ ‌ ‌ ‌ ‌ ‌ ‌ ‌ ‌ ‌ ‌ ‌ ‌ ‌ ‌ ‌ ‌ ‌ ‌ ‌ ‌ ‌ ‌ ‌ ‌ ‌ ‌ ‌ ‌ ‌ ‌ ‌ ‌ ‌ ‌ ‌ ‌ ‌ ‌ ‌ ‌ ‌ ‌ ‌ ‌ ‌ ‌ ‌ ‌ ‌ ‌ ‌ ‌ ‌ ‌ ‌ ‌ ‌ ‌ ‌ ‌ ‌ ‌ ‌ ‌ ‌ ‌ ‌ ‌ ‌ ‌ ‌ ‌ ‌ ‌ ‌ ‌ ‌ ‌ ‌ ‌ ‌ ‌ ‌ ‌ ‌ ‌ ‌ ‌ ‌ ‌ ‌ ‌ ‌ ‌ ‌ ‌ ‌ ‌ ‌ ‌ ‌ ‌ ‌ ‌ ‌ ‌ ‌ ‌ ‌ ‌ ‌ ‌ ‌ ‌ ‌ ‌ ‌ ‌ ‌ ‌ ‌ ‌ ‌ ‌ ‌ ‌ ‌ ‌ ‌ ‌ ‌ ‌ ‌ ‌ ‌ ‌ ‌ ‌ ‌ ‌ ‌ ‌ ‌ ‌ ‌ ‌ ‌ ‌ ‌ ‌ ‌ ‌ ‌ ‌ ‌ ‌ ‌ ‌ ‌ ‌ ‌ ‌ ‌ ‌ ‌ ‌ ‌ ‌ ‌ ‌ ‌ ‌ ‌ ‌ ‌ ‌ ‌ ‌ ‌ ‌ ‌ ‌ ‌ ‌ ‌ ‌ ‌ ‌ ‌ ‌ ‌ ‌ ‌ ‌ ‌ ‌ ‌ ‌ ‌ ‌ ‌ ‌ ‌ ‌ ‌ ‌ ‌ ‌ ‌ ‌ ‌ ‌ ‌ ‌ ‌ ‌ ‌ ‌ ‌ ‌ ‌ ‌ ‌ ‌ ‌ ‌ ‌ ‌ ‌ ‌ ‌ ‌ ‌ ‌ ‌ ‌ ‌ ‌ ‌ ‌ ‌ ‌ ‌ ‌ ‌ ‌ ‌ ‌ ‌ ‌ ‌ ‌ ‌ ‌ ‌ ‌ ‌ ‌ ‌ ‌ ‌ ‌ ‌ ‌ ‌ ‌ ‌ ‌ ‌ ‌ ‌ ‌ ‌ ‌ ‌ ‌ ‌ ‌ ‌ ‌ ‌ ‌ ‌ ‌ ‌ ‌ ‌ ‌ ‌ ‌ ‌ ‌ ‌ ‌ ‌ ‌ ‌ ‌ ‌ ‌ ‌ ‌ ‌ ‌ ‌ ‌ ‌ ‌ ‌ ‌ ‌ ‌ ‌ ‌ ‌ ‌ ‌ ‌ ‌ ‌ ‌ ‌ ‌ ‌ ‌ ‌ ‌ ‌ ‌ ‌ ‌ ‌ ‌ ‌ ‌ ‌ ‌ ‌ ‌ ‌ ‌ ‌ ‌ ‌ ‌ ‌ ‌ ‌ ‌ ‌ ‌ ‌ ‌ ‌ ‌ ‌ ‌ ‌ ‌ ‌ ‌ ‌ ‌ ‌ ‌ ‌ ‌ ‌ ‌ ‌ ‌ ‌ ‌ ‌ ‌ ‌ ‌ ‌ ‌ ‌ ‌ ‌ ‌ ‌ ‌ ‌ ‌ ‌ ‌ ‌ ‌ ‌ ‌ ‌ ‌ ‌ ‌ ‌ ‌ ‌ ‌ ‌ ‌ ‌ ‌ ‌ ‌ ‌ ‌ ‌ ‌ ‌ ‌ ‌ ‌ ‌ ‌ ‌ ‌ ‌ ‌ ‌ ‌ ‌ ‌ ‌ ‌ ‌ ‌ ‌ ‌ ‌ ‌ ‌ ‌ ‌ ‌ ‌ ‌ ‌ ‌ ‌ ‌ ‌ ‌ ‌ ‌ ‌ ‌ ‌ ‌ ‌ ‌ ‌ ‌ ‌ ‌ ‌ ‌ ‌ ‌ ‌ ‌ ‌ ‌ ‌ ‌ ‌ ‌ ‌ ‌ ‌ ‌ ‌ ‌ ‌ ‌ ‌ ‌ ‌ ‌ ‌ ‌ ‌ ‌ ‌ ‌ ‌ ‌ ‌ ‌ ‌ ‌ ‌ ‌ ‌ ‌ ‌ ‌ ‌ ‌ ‌ ‌ ‌ ‌ ‌ ‌ ‌ ‌ ‌ ‌ ‌ ‌ ‌ ‌ ‌ ‌ ‌ ‌ ‌ ‌ ‌ ‌ ‌ ‌ ‌ ‌ ‌ ‌ ‌ ‌ ‌ ‌ ‌ ‌ ‌ ‌ ‌ ‌ ‌ ‌ ‌ ‌ ‌ ‌ ‌ ‌ ‌ ‌ ‌ ‌ ‌ ‌ ‌ ‌ ‌ ‌ ‌ ‌ ‌ ‌ ‌ ‌ ‌ ‌ ‌ ‌ ‌ ‌ ‌ ‌ ‌ ‌ ‌ ‌ ‌ ‌ ‌ ‌ ‌ ‌ ‌ ‌ ‌ ‌ ‌ ‌ ‌ ‌ ‌ ‌

"The most wisdom per word of any newsletter on the web."
3-2-1: Motivation, criticism, and the goal of adulthood
Happy 3-2-1 Thursday!
Here are 3 ideas, 2 quotes, and 1 question to consider this week.
​

3 Ideas From Me
I.
"The climb is the fun part."
---
​II.
"Good marketing can sell once, but only a good product can sell twice.
In the long run, your performance reverts to the value you provide."
---
III.
"Motivation comes and goes. If you want to do something consistently, then don't pick a level of difficulty that requires great motivation.
Make it easy enough and simple enough that you'll do it even when you don't feel very motivated."
​

​
2 Quotes From Others
I.
Psychologist and author Adam Grant on criticism:
"Criticizing is easy and fast. Creating is difficult and slow. The two hours you spent on a book or movie usually took two years to produce.
Anyone can tear down someone else's work. The true test of insight is whether you can help them improve it or build something of your own."
Source: Twitter​
---
​II.
Physician Chris Ballas, more commonly known under his pen name The Last Psychiatrist, on the goal of adulthood:
"The goal of adulthood is to let go of the other possible existences and to make the best of the one. A successful adult is one who understands that it doesn't matter which life you ultimately pick, only that you live it well."
Source: A Surprising Number Of Teens Think They'll Die Young, Or Live Forever, Whichever Comes First​

​
1 Question For You
What is one of your natural gifts? How can you spend more time leveraging it?
​
​
If you enjoyed that, please share with others.
​Share this newsletter on Twitter, Facebook, LinkedIn, WhatsApp, or via email.
Or, copy and paste the link below:
https://jamesclear.com/3-2-1/march-24-2022?rh_ref=b46beaa9
​
Until next week,
James Clear
​Author of the #1 worldwide bestseller, Atomic Habits​
Creator of the Habit Journal​
​
p.s. Wordle.
​
​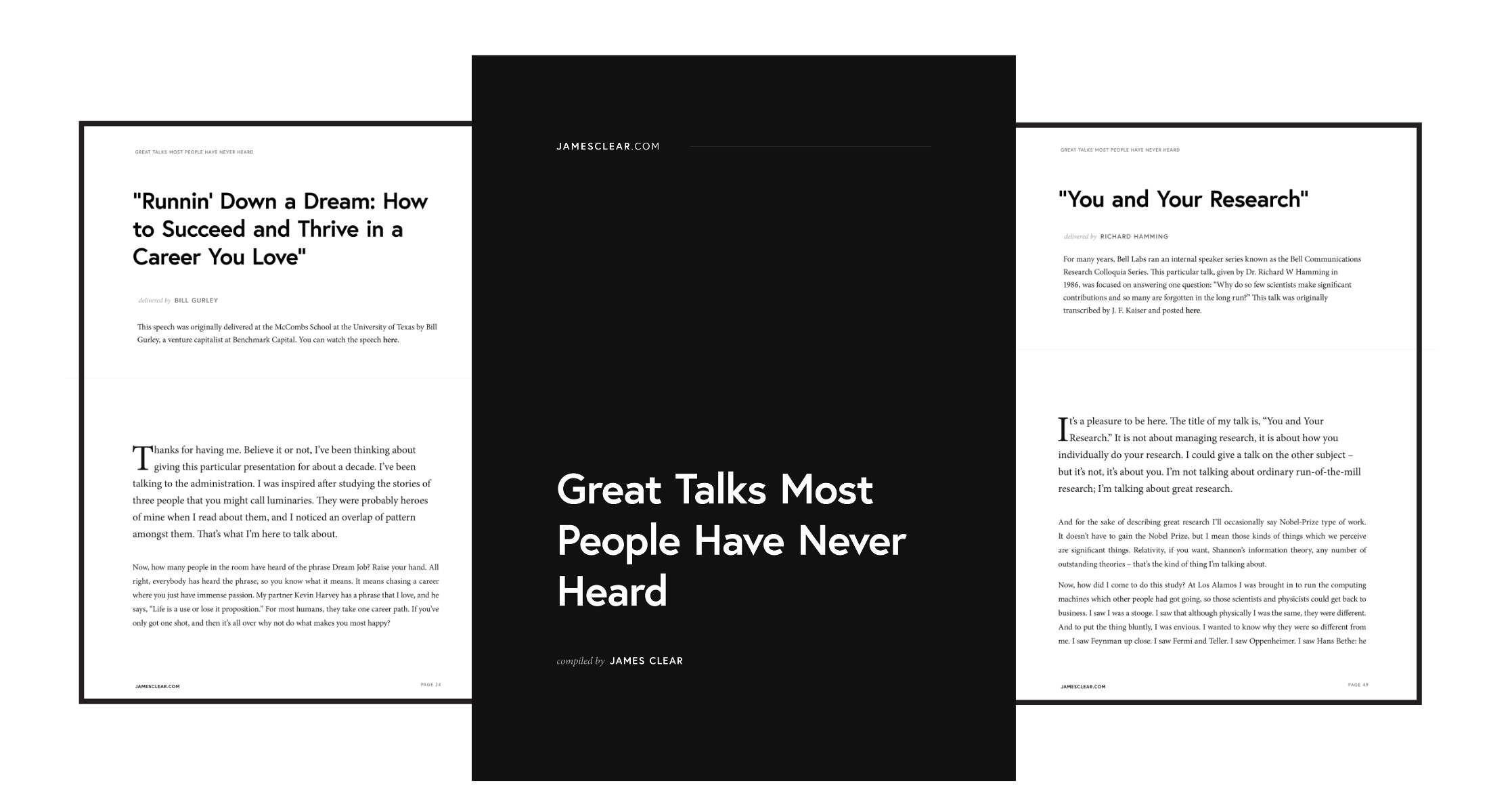 Share 3-2-1 and get something useful.
If you enjoy these messages, please tell a friend about the 3-2-1 Newsletter. And if you do, I'll send you a special bonus.
You're just
1 referral
away from unlocking
The Great Speeches PDF
For years, I have collected a list of insightful speeches that are not widely known. I've discovered many hidden gems. Recently, I created transcripts for 10 of my favorites and compiled them into a single document titled, "Great Talks Most People Have Never Heard." Each one is filled with useful ideas for life and work.
Here's how to get access to it...
You have a custom referral link (see below). Just copy and paste your referral link into an email, on social media, or however else you'd like to share it. If 3 new people sign up through your link, then you'll automatically get an email with the Great Speeches PDF attached. Thanks for spreading the word.
Your referral link:
https://jamesclear.com/3-2-1/refer?rh_ref=b46beaa9
Click to Share
​
​
About this newsletter: You are receiving this email because you subscribed to my weekly 3-2-1 newsletter. Every Thursday, I share 3 ideas from me, 2 quotes from others, and 1 question for you to ponder. Occasionally, I send out longer content on habits and self-improvement.
Update your subscription preferences: Unsubscribe from the 3-2-1 newsletter, unsubscribe from all emails (including future book announcements), or manage your subscriber profile.
Atomic Habits customers: Click here to learn how to redeem your purchase for free bonuses. This will also remove you from any promotional emails for the book.
2935 E Main St. Unit #9361, Columbus, OH 43209